Video: How To Add Selling Locations on Fynd Platform
How to access on Fynd Platform
Platform Panel
Profile
Locations
---
Step 1: In the Platform Panel, go to Profile.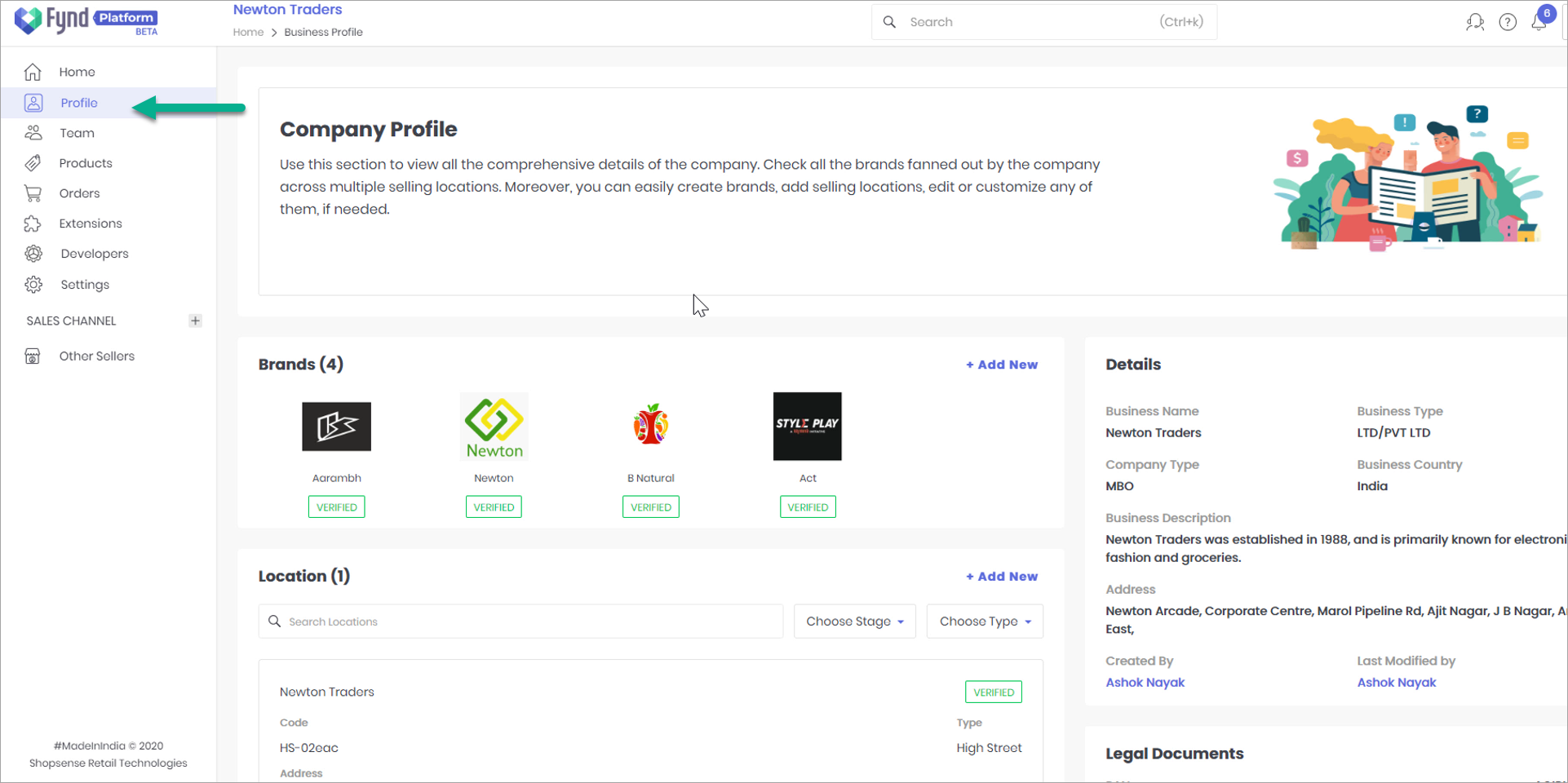 Figure 1: Profile Section in Platform Panel
Step 2: In the Location section, click on Add New.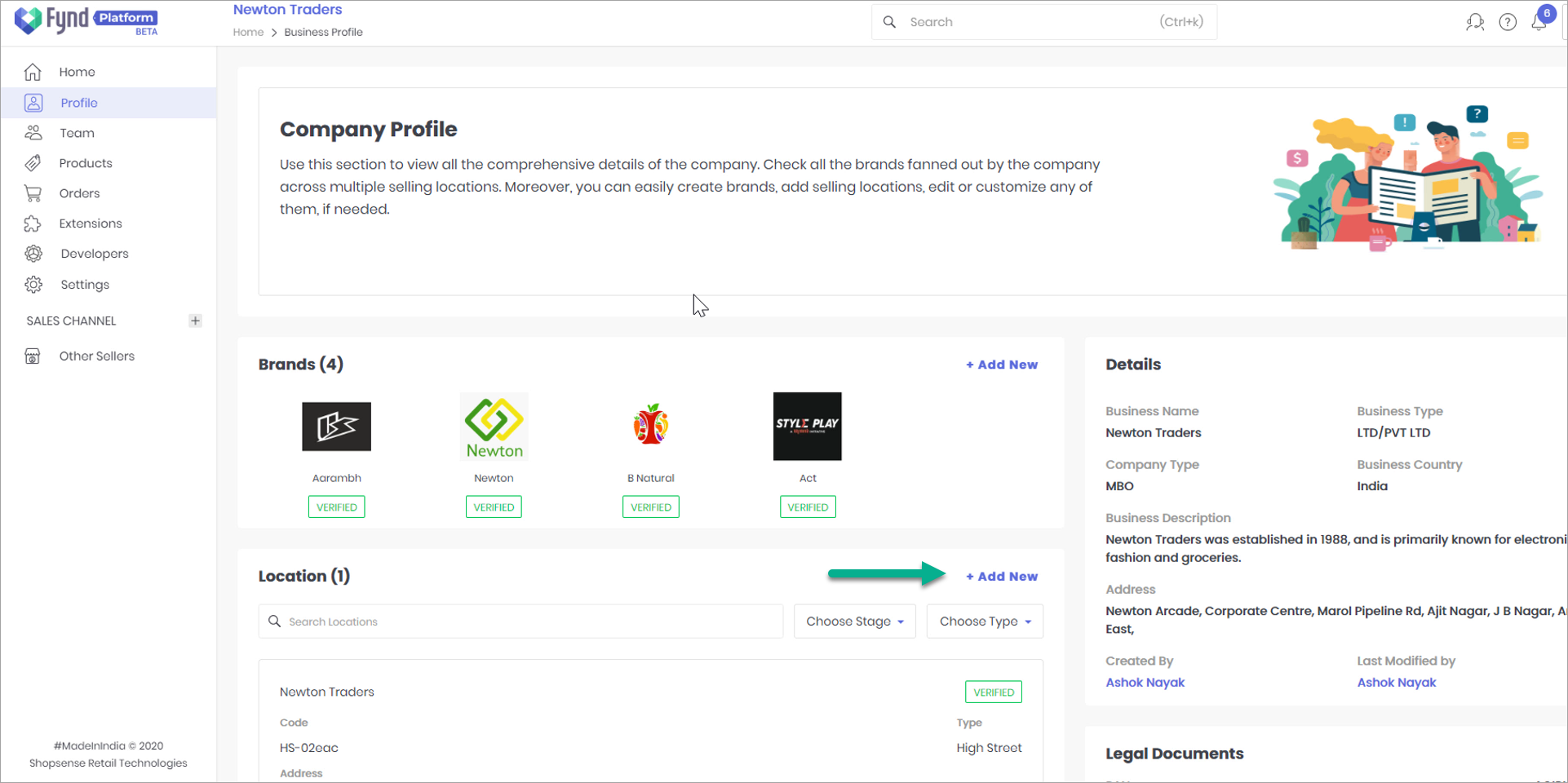 Figure 2: Add a New Location
Step 3: Enter the location details: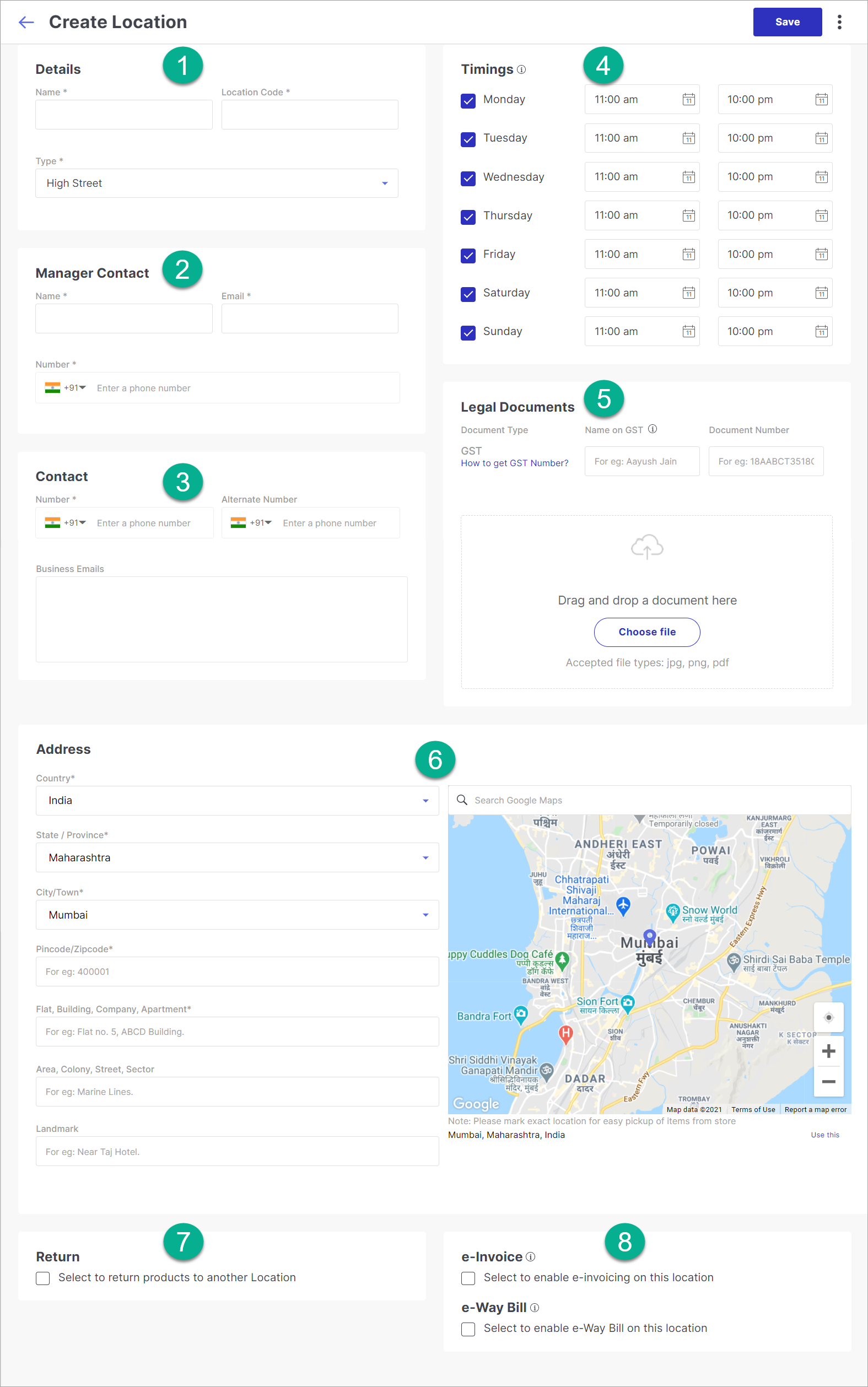 Figure 3: Location Details
Details - Enter the basic details of your selling location. These details will be used to identify your selling location and distinguish it from other locations.

Name - Name of your selling location, e.g., Pinnacle Arcade.

Location Code - This is an identification code for location within the company. It is mainly used for location mapping during inventory integration, e.g., MSV12. By adding your Location Code, you help us synchronize your product inventory across all your sale channels.

Type - Choose Mall if you are located in a mall, and High Street if you are located on a shopping street. If you store and distribute your goods from your location, select Warehouse.

Manager Contact - Enter the name, email and mobile number of the location manager.

Contact - Add the official mobile number and business email of your selling location.

Timings - Use the drop-down feature and select the operational hours of this selling location.

Legal Documents - Enter the GST details and upload the GST registration document of this selling location.

Address - Enter the address of the selling location as per your official records. The best way to locate your address on the map is by entering your address in the search bar provided above the map. Once you approximately point your location, you can click the 'Use this' option given below the map. This will fill the other details automatically, and you can edit it accordingly.

Country
State/Province
City/Town
PIN Code/Zip Code
Flat, Building, Company, Apartment
Area, Colony, Street, Sector (Optional)
Landmark (Optional)

tip

As shown in the video, the address must be entered with the help of a map. Your location will get verified only if the address located on the map matches the address written by you. If the information provided by you is correct, your selling location will get a VERIFIED tag, automatically.

Figure 4: Verified Selling Location




Return - Use this option if you want the products sold by a given location, to be returned to another selling location of your company, and not the given location.

Figure 5: Configuring Order Return




e-Invoice - Click here to know how to enable e-Invoice.

e-Way Bill - Click here to know how to enable e-Way Bill.
---
What to do if the verification status of your selling location shows 'Pending'?
Click on the unverified selling location.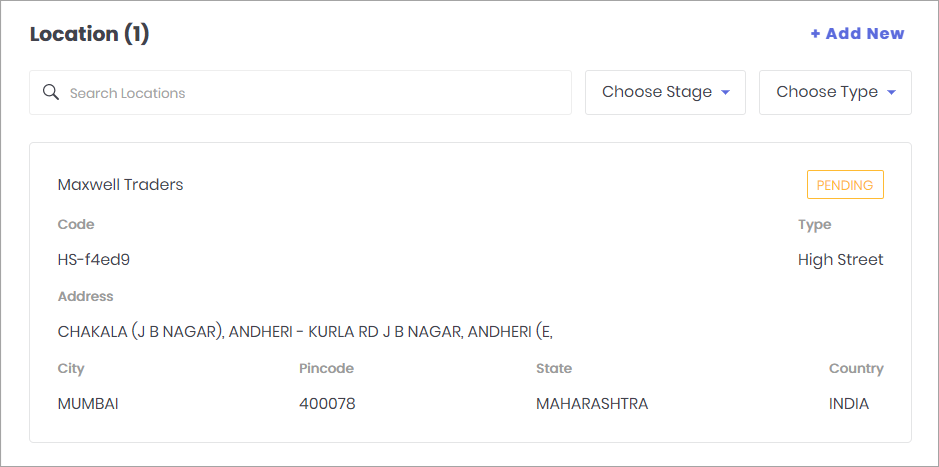 Figure 6: Unverified Selling Location
Check the reason for the verification failure of your location, as shown in the image below.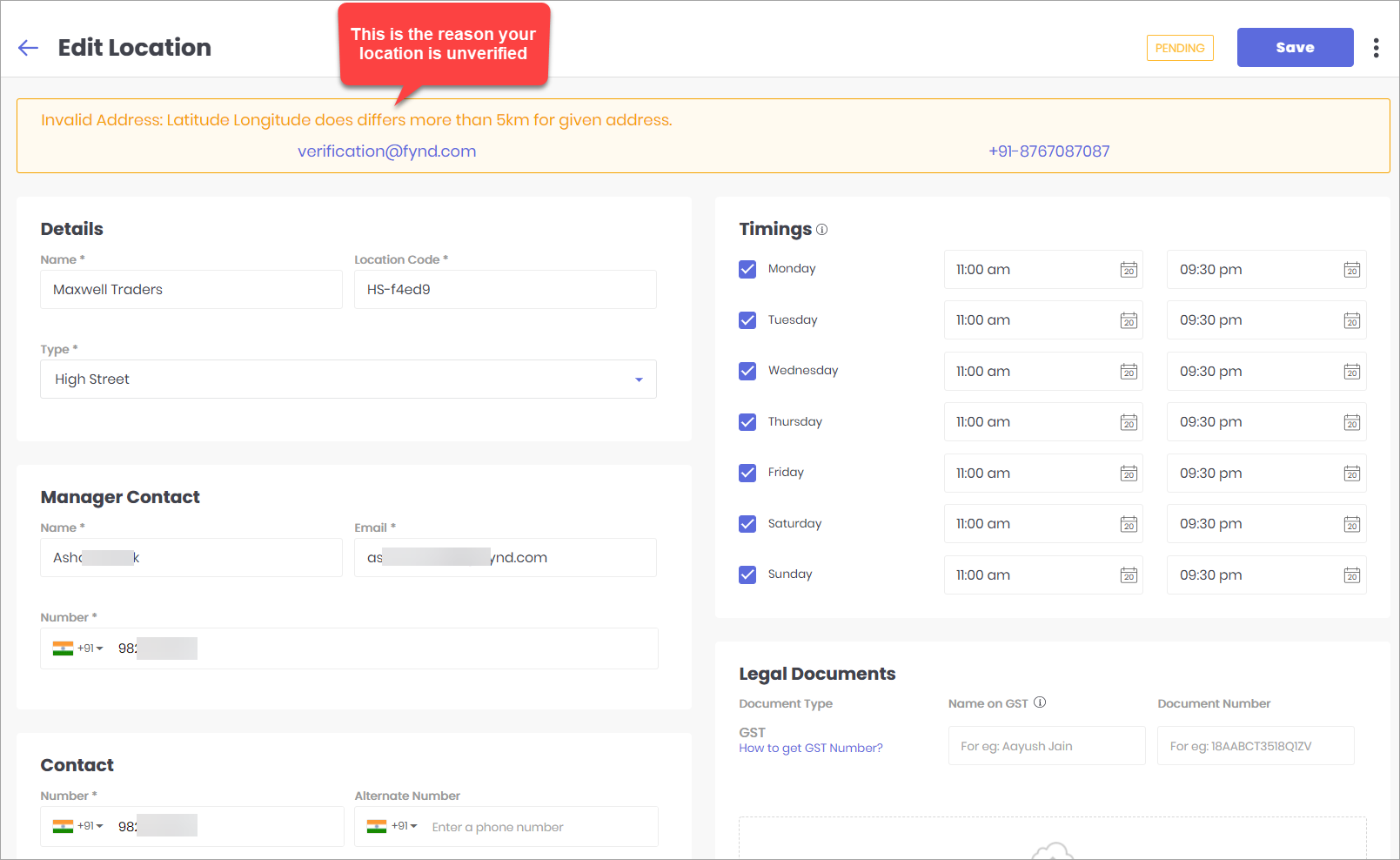 Figure 7: Unverified Selling Location
Make sure to find your address on the map and click the 'Use this' button (bottom-right corner of the map) to fill the address and edit it, if needed.
Figure 8: Fixing The Address
You location will get a 'Verified' tag.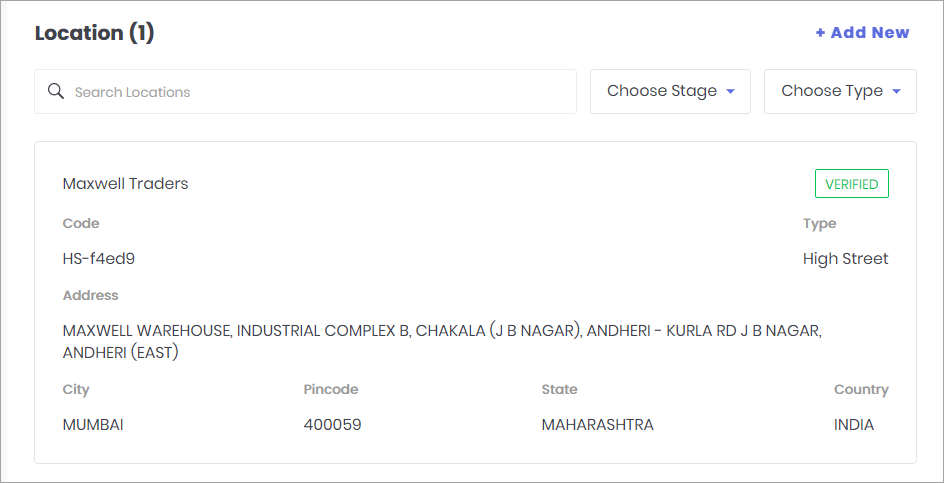 Figure 9: Verified Location
Facing difficulties in getting your selling location verified? Reach out to us at verification@fynd.com or call us on +91-8767087087