Introduction
On Fynd Platform, you can make it easier for customers to find products by creating a collection. You can organize and group certain products to show on your website. Example:
Men's shirts under ₹1000
Summer Collection
Sneakers with 60% discount
You can create a collection of products that belong to one or more categories. You can also handpick products while including them in your collection.
How to access on Fynd Platform
Platform Panel
Sales Channel (select application)
Marketing
Collections
In this document, you will learn more about:
---
Creating a Collection
Video: How To Create A Collection Of Products
Go to Fynd Platform → Your Sales Channel → Marketing → Collections → Create Collection.
Entering the basic details
Name - Give a name to the collection. This will be displayed on your website.

Slug - This is automatically generated when you type the collection name. It's a user-friendly and human-readable part of the URL for your collection.

Description - Write a brief description (within 150 characters) about the collection you're creating.

Logo - You can add either a jpg or png file with an aspect ratio of 1:1. Example: If the width of the image is 250px, its height should be 250px too.

Portrait Banner - Add a vertical image having an aspect ratio of 13:20. Example: If the width of the image is 250px, its height should be 385px.

Landscape Banner - Add a horizontal image having an aspect ratio of 27:20. Example: If the width of the image is 640px, its height should be 474px.

Tags - (Optional) Add tags to your products. These are keywords that help in quickly searching a collection in the back-end.

Badge and Badge Color - (Optional) Add a badge to your collection and set its color. Example: Original.

Show on Collection List - Uncheck this option if you don't wish to display your collection on the Collections listing page, and show it elsewhere on your website. By default, this option is enabled and your collection will show up on the listing page.
Adding Products to your Collection
Under Collection Type, choose between Basic Collection and Handpick Collection.
Basic Collection - It will have all the products that are shortlisted after applying the filters. You won't be able to selectively choose the products that you wish or don't wish to have in your collection.

Basic Collection

Handpick Collection - Unlike basic collection, this will give you the freedom to choose products that you wish to have in your collection after you filter the products.

Handpick Collection

Note: Basic collection allows you to quickly create a collection using filters. Whereas, handpicked collection extends the same by offering the option to choose the products after filtering, but you end up taking more time.

To search products, you can use the filters, search bar and sort options as shown in the above images.

Preferred Sort: Use this option to set a default sort method applicable on products while displaying the collection to your customers.

Interestingly, you can manually sort the products in your collection too. This is especially useful when you want to display certain products of your collection at the top. It helps promote certain products, that you believe, customers will tend to purchase compared to the rest.

Choose Manual in Preferred Sort. It is only available if you're creating a handpicked collection.

Manually Sorting Products In A Collection
---
Adding SEO Information
Fynd Platform allows you to add SEO information to your collection. Click Edit Website SEO and add a title and description that should be visible in the search engine results when people search for your collection.
Note: No matter how long the title and description are, search engines will show only up to 50-60 characters of the title, and 155-160 characters of the description in the search results. Therefore, you should consider adding the most relevant keywords in the beginning.
Click Create to publish your collection
---
Removing a Collection from its Listing Page
You may want to remove a collection from the Collections listing page in case you wish to display it elsewhere on the website, e.g. navigation bar, the home page, banner link, etc.
To do this, uncheck the Show on collection list option under Basic Details.
Watch the video below to learn how to add a collection to your navigation bar.
Video: Adding a Collection to the Navigation Bar
---
Unpublishing a Collection
If you do not wish to display your collection anywhere on your website, go to that collection and use the toggle button to unpublish it.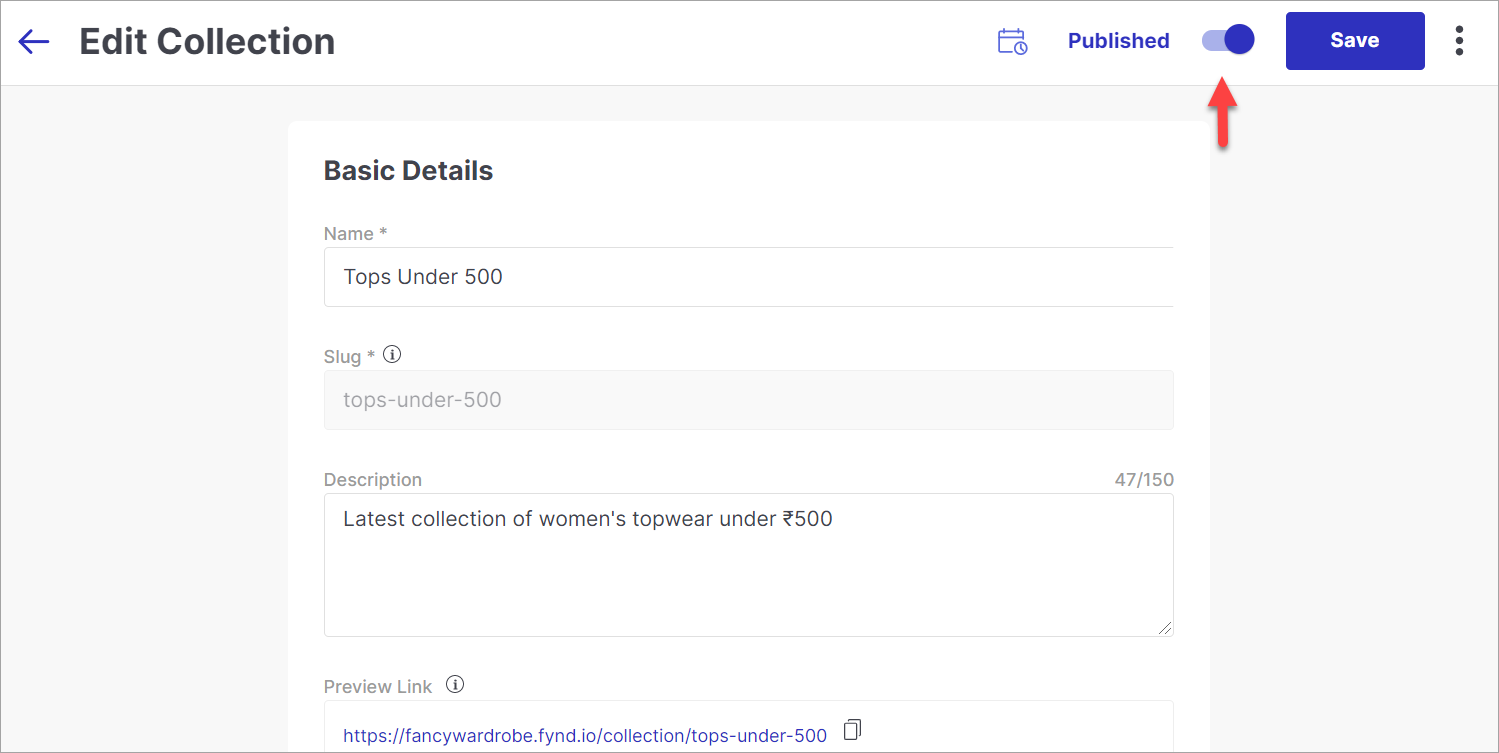 Unpublishing A Collection