How to update MRP and ESP of products
The MRP (Actual Price) and ESP (Effective Selling Price) of products are initially set by you at the catalogue-level. You can change these prices anytime using the Partial Update feature. However, updating the prices in the catalogue doesn't affect the prices you've set in the inventory.
For changing the MRP or ESP of products at any of your selling locations, update the prices in the inventory rather than the catalogue. Moreover, you can maintain different prices at each selling location than the ones you've set in the catalogue.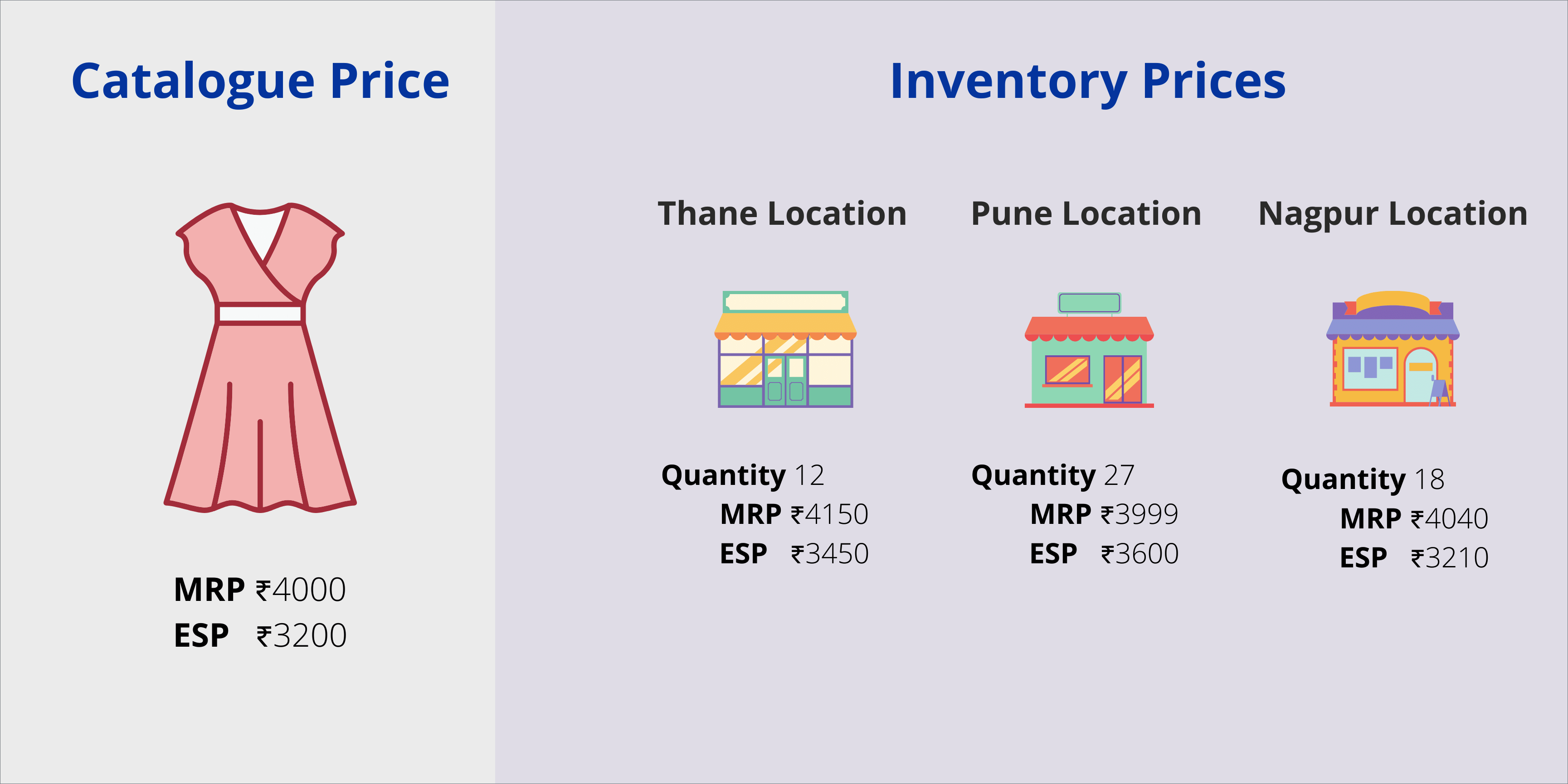 Keeping Product Prices Distinct at Different Selling Locations
In this document, you'll learn the following:
---
Updating Prices Through UI
Go to the Products section in Fynd Platform, find your product, and click the drop-down present besides the Edit Product button.

Figure 1: Drop-down in Products section




Select Edit Inventory for the desired product whose Maximum Retail Price and Selling Price you wish to update.

Figure 2: Edit Inventory Option




Click on a particular size, and you will see a list of selling locations with respective Maximum Retail Price and Selling Price. Click on Edit.

Figure 3: Editing Inventory




Enter your new values in Maximum Retail Price (MRP) and Selling Price. Click on Save.

Figure 4a: Changing MRP and ESP for first location




Figure 4b: Changing MRP and ESP for second location




Figure 4c: Updated MRP and ESP values for selling locations




note

As guided in step 3, you can update Maximum Retail Price and Selling Price values for multiple selling locations.

You can check the updated prices on your website. Simply select the product size, and you'll see the new MRP and SP for each location.

Figure 5a: Selecting Size




Figure 5b: Selecting a Selling Location




Figure 5c: New MRP and ESP values displayed



---
Updating Prices Through Excel
Go to the Products section in Fynd Platform, and click the Export button.

Figure 1: Products Section




Click Inventory in the pop-up.

Figure 2: Bulk Inventory Export




Click the Generate button on the top-right.

Figure 3: Clicking the Generate Button




Select Store, Brand, and Type from the drop-down available in each option. Here, we have selected all stores and brands. Now, click on Export.

Figure 4a: Selecting Filters




Inventory export job will begin with RUNNING status as shown in the figure below.

Figure 4b: Running a Batch Job




Click the download icon once the status changes to SUCCESS. A zip file will start downloading to your PC.

Figure 5: Downloading Generated Inventory File




Open the downloaded zip file, and extract it as shown in the figure below.

Figure 6a: Extracting Zip Content




Find the exported Excel/CSV file within the extracted folder.

Figure 6b: Locating Excel/CSV File




Open the Excel file, and locate the seller identifier of products whose Maximum Retail Price and Selling Price you wish to update. Here, we have selected two products and we will change their prices at each selling location.

Figure 7: Selecting Products

note

(Optional) You may delete the rows where the prices aren't changed.

Enter new Actual Price and Selling Price and save the file.

Figure 8: Updating MRP and ESP




On Fynd Platform, go back to the Products section.

Figure 9: Download Inventory Screen




Click the Import button.

Figure 10: Products Section




Click Inventory in the pop-up.

Figure 11: Bulk Inventory Import




Use the file uploader to upload your Excel file.

Figure 12a: Uploading Excel File




Verify the data before proceeding with inventory upload.

Figure 12b: Upload Bulk Inventory Window




If the file is valid, you can upload your inventory. Click on Upload in the top-right corner.

Figure 13a: Uploading Inventory




The bulk upload will initiate and it can be viewed under 'Upload History' as shown below. The upload status will be shown as 'Pending'. Wait till the status turns to 'Completed'.

Figure 13b: Batch Processing Started




Visit your website, and you will see the updated Maximum Retail Price and Selling Price of the products modified in the Excel file.

Figure 14: New MRP and ESP values of a product on PDP