Partially Update Catalogue
Video: Fynd Platform - How To Update Product Attributes
How to access on Fynd Platform
Platform Panel
Products
All products
Import
In the earlier sections, you have learnt to create a single product as well as bulk products. Now, what if you wish to update the attributes (e.g. material, colour, weight, etc) of one or more products.
Manually browsing the products and changing their attributes is clearly not the solution. Therefore, Fynd Platform has an option of Partial Update. You can upload an excel or CSV file containing the product details along with the new attribute values.
How to update the attributes of one or more products?
Let's update the images of the below product using the Partial Update feature. As you can see, this product has 3 images which needs to be replaced with the latest ones.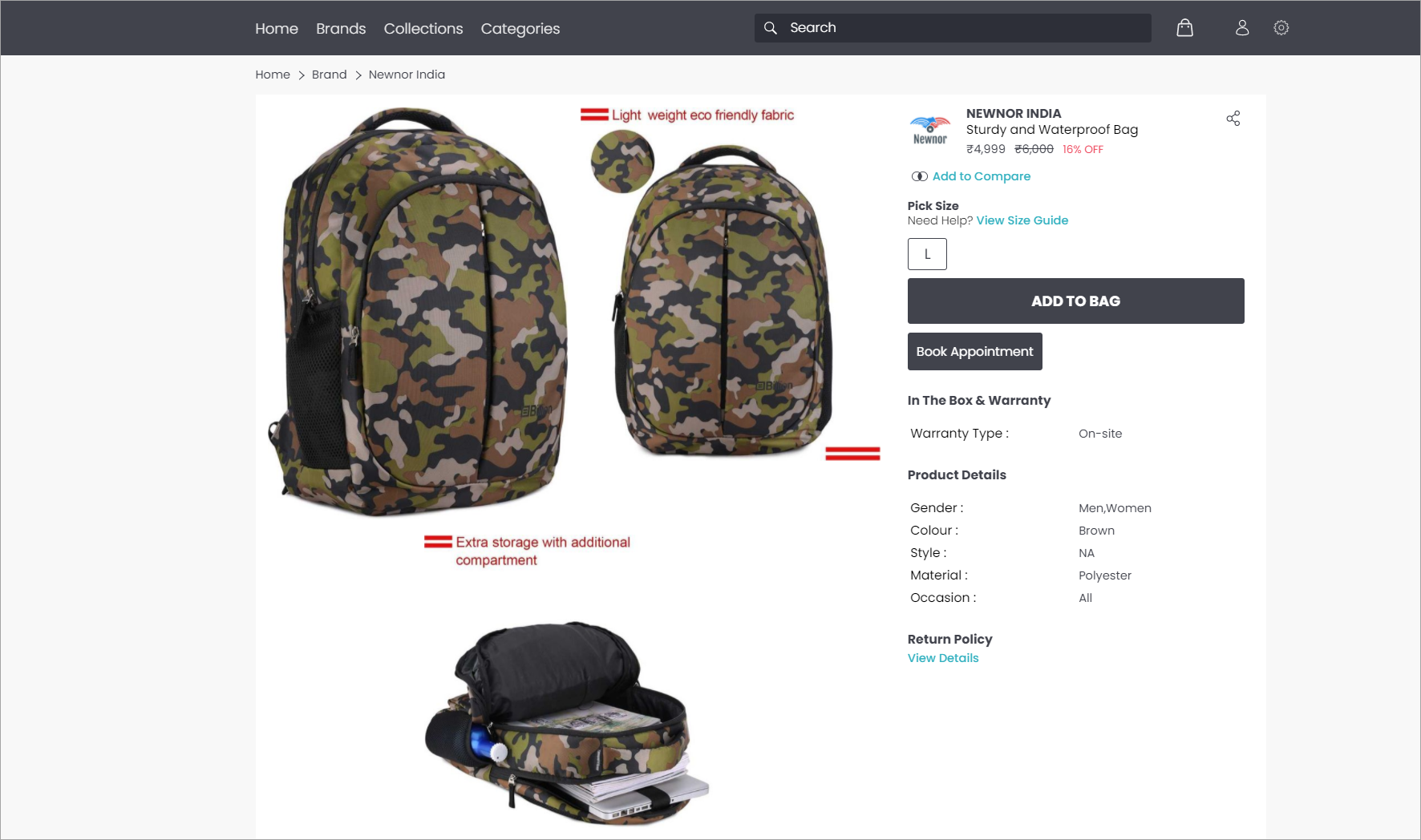 Figure 1: Updating A Product
In an excel file, you need to have 3 mandatory headers:

Figure 2: Mandatory Headers



Since you want to add 3 images, create a Media header in the excel. Assuming that your images are hosted on cloud, you just add those 3 image links in the excel. Therefore, add 2 more rows having the same Item Code, Brand and Update Command.

Figure 3: Adding The Updated Values



The process of uploading this excel file is the same as that of catalogue (check Importing Catalogue for more info). In the Products section, click on Import.

Figure 4: Import



Select Catalogue.

Figure 5: Import Options



Choose a template and category for which you want to update the product. In this case, we are updating a product that belongs to the category of bags.

Figure 6: Choose Product Template



Here, you can upload your excel file.

Figure 7: Uploading Your Excel File



Check the Validation Status to view errors (if any).

Figure 8: Validating Your Excel File



If the file is valid, you can upload your update file. Click on Upload in the top-right corner. The updation will initiate and it can be viewed under Upload History as shown below. The upload status will be run in a batch and it will be shown as 'Pending' till its completion.

Figure 9: Started Uploading Your File



Soon, you will see the completion status.

Figure 10: Batch Completed Successfully



You have successfully updated your product! Now, can view new images for this product on all your sales channels.

Figure 11: Products - Main Screen




Figure 12: Updated Product On Your Website



You can also update the attributes of multiple products at once. Let's say you want to update the images of your products. Similar to the above example, you write the Item Code, Brand and Command for all your products, and subsequently add the attribute column with their new values.
Let's say you want to update 3 images each for 3 products having item code BPK-1002, BPK-1003 and BPK-1004.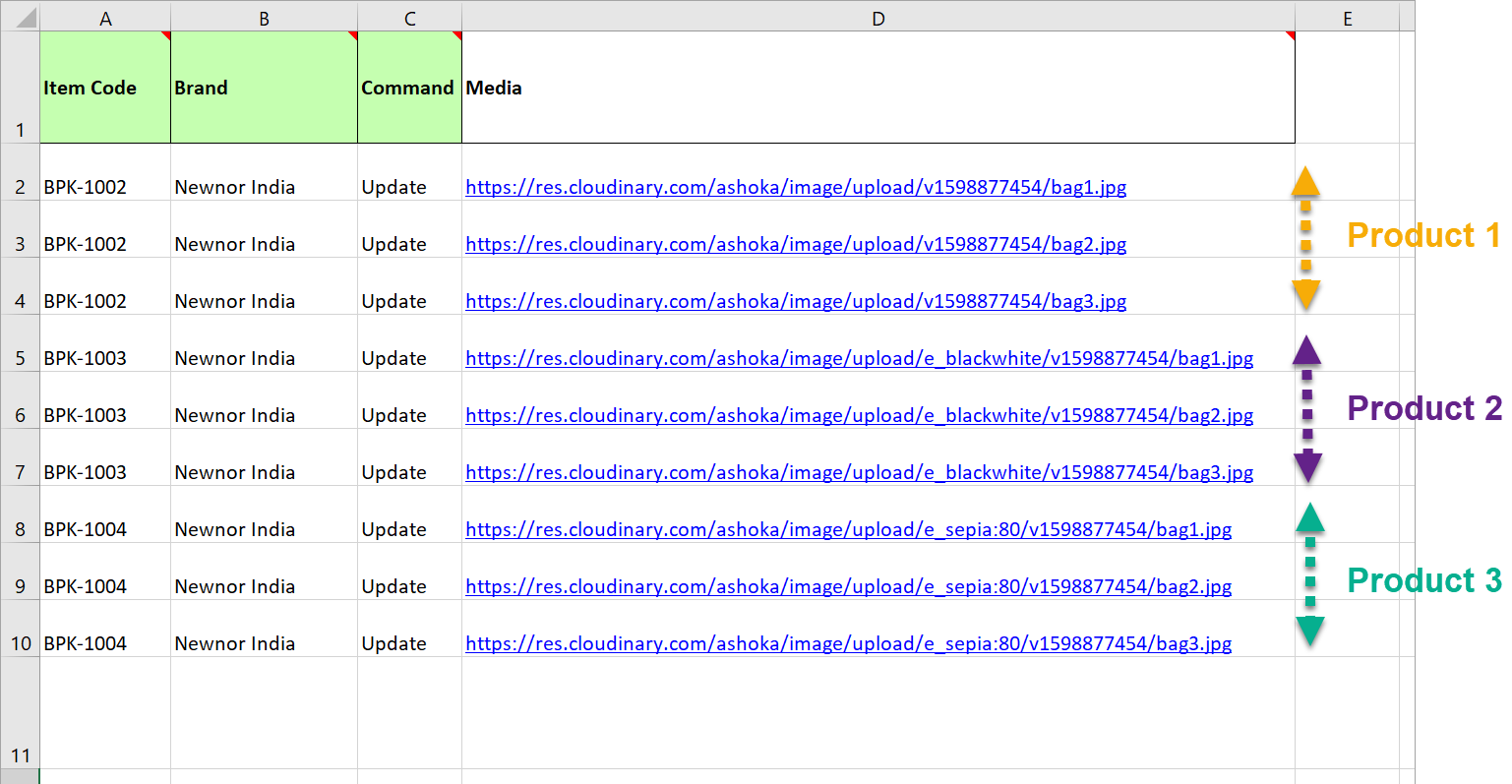 Figure 13: Updating Bulk Products via Excel
Upload this excel file and validate it.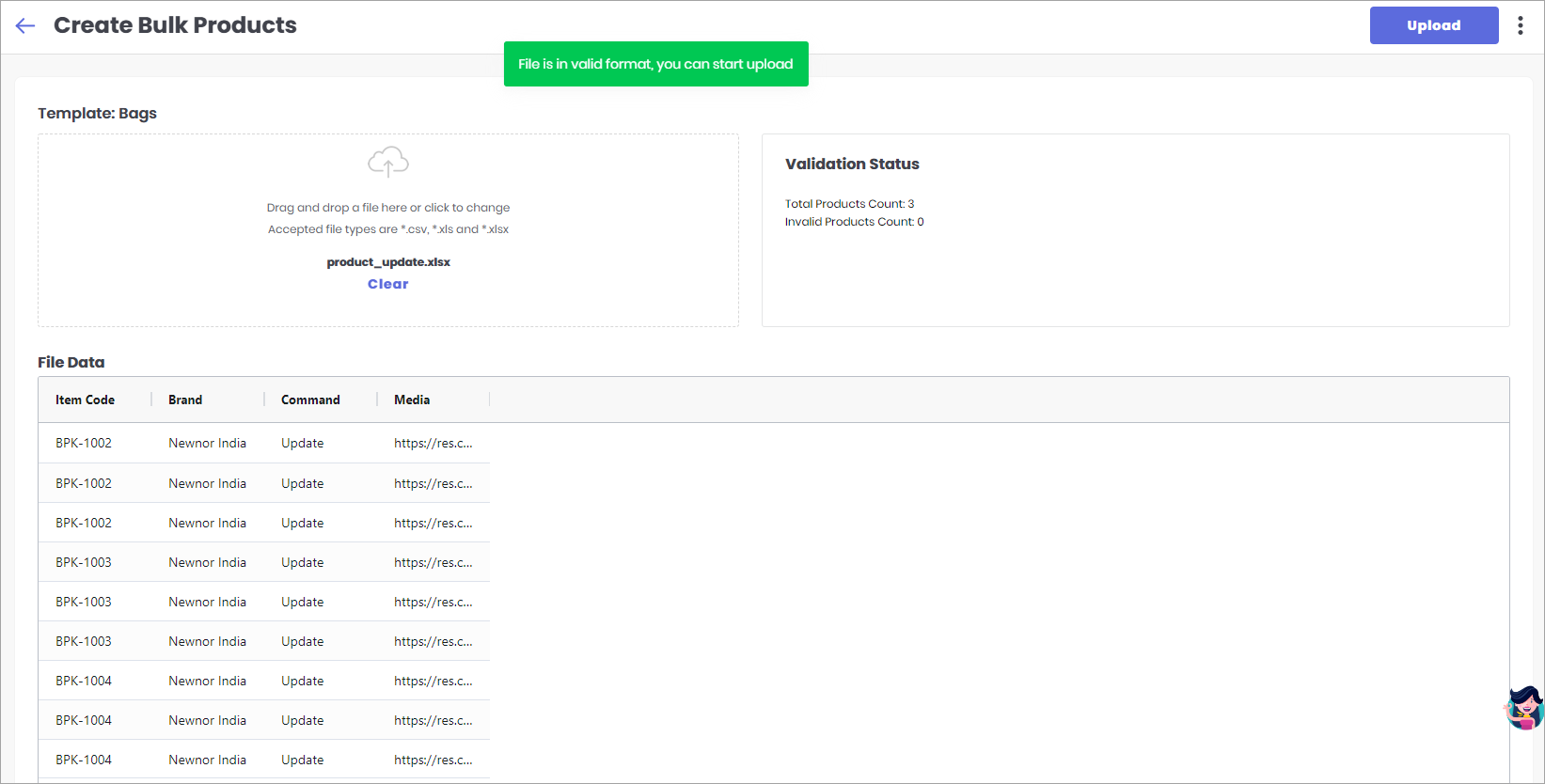 Figure 14: Validating Your Excel File
Click on Upload and wait till the completion of the bulk update.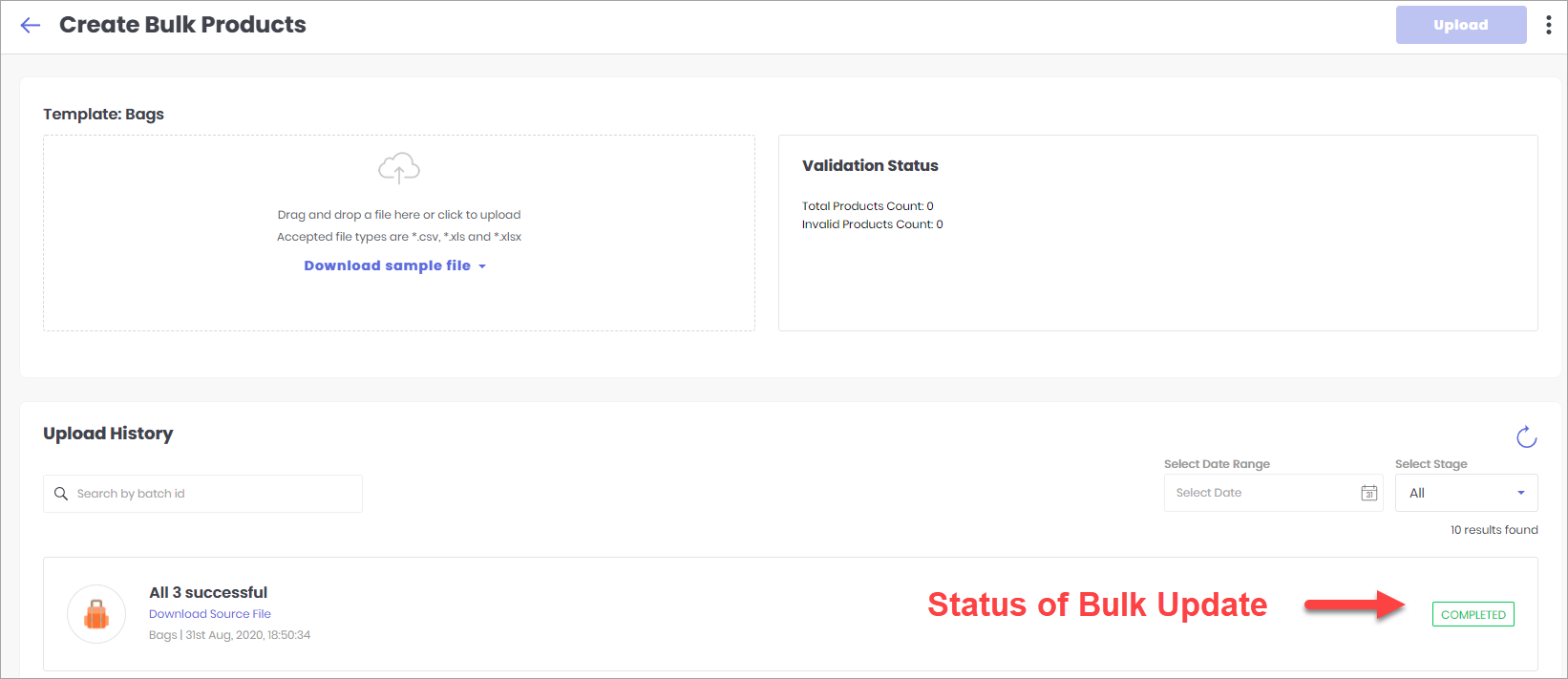 Figure 15: Batch Completed Successfully
All the 3 products will get updated simultaneously with their new images.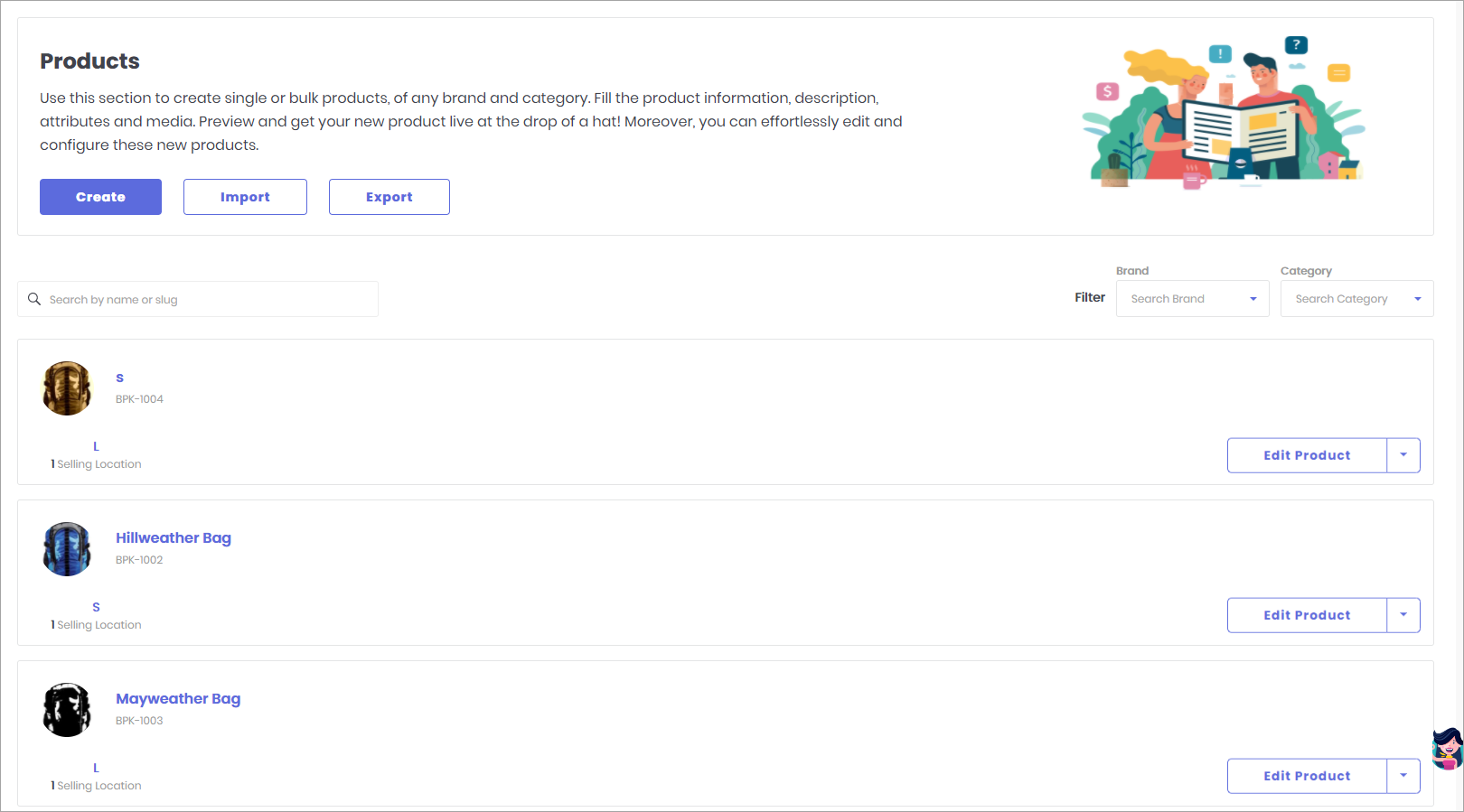 Figure 16: Products - Main Screen
Similarly, you can update multiple attributes at once. For example to update colour, primary material, actual price, currency, etc. add every header in an excel file along with their new values.
note
Kindly check the product templates to see the list of valid attributes.